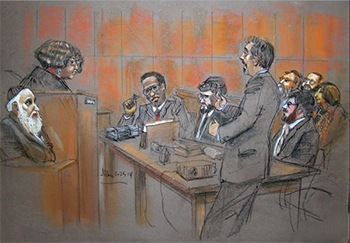 MC Shapiro Law Group PC founding Member and Managing Attorney Mitchell C.  Shapiro spent the first 16 years of his practice practicing law as an antitrust/trade regulation, payment systems/EFT and complex commercial litigation attorney at the highest levels, representing Fortune 500 corporations, national trade associations and other clients in significant cases and class actions at major law firms. This culminated in his serving as co-lead counsel in the then-largest antitrust class action in history, in which Visa and MasterCard settled for over $3 billion.  Mr. Shapiro also served as outside general counsel or in-house counsel for two different groups of FinTech (financial services) companies that provided businesses with payment processing services and alternative funding to businesses in the form of merchant cash advances and for an electronic medical records software company.   
From 2011 to 2015, Mr. Shapiro managed a law firm with a staff of over 20 attorneys, clerks and paraprofessionals that litigated scores of cases in State and Federal courts throughout the Country (as well as handling transactional work and representing clients in estate, guardianship, bankruptcy, personal injury and criminal matters).  After eliminating the firm's criminal and civil litigation practice in order to focus on complex commercial litigation and counseling, Mr. Shapiro then merged the practice  into a 150-year old Wall Street Law Firm in 2015.  Following his latest stint as general counsel for a group of related financial services companies that provide merchant cash advance funding to small businesses throughout the United States, Mr. Shapiro re-entered private practice, advising individuals and businesses — both large and small — on partnership formations, mergers, restrictive covenants , eCommerce, data security and privacy and the business practices of various types of companies, including those involved in FinTech, eCommerce and the marketing and processing of electronic payments (such as credit/debit card and cash advance transactions).
In addition to counseling clients on business strategies and initiatives and in individual, "mass action" and class action litigations, trial and appeals, Mr. Shapiro has represented clients before the Antitrust Division, the Federal Trade Commission, the Antitrust, Consumer Frauds and Health Bureaus of the Office of the New York State Attorney General (and the Antitrust and Trade Bureaus of numerous other states), the NAAG Payment Systems Working Group, the FCC, the SEC, the Consumer Financial Protection Bureau, the Federal Reserve and the New York State Division of Human Rights. Mr. Shapiro has been lead or co-counsel for the prevailing party in a number of significant cases, including Allstate Insurance Co. v. Mugavero, et al., The Trump-Equitable Fifth Avenue Company v. The City of New York, et al., Goodstein-Milstein v. City of New York, and in several monopolization and conspiracy cases in various state and federal courts, including Concord EFS, Inc. v. Deluxe Data, Inc.; Diskin v. Daily Racing Form, Inc.; Concord EFS, Inc. v. Deluxe Data Systems, Inc.; Solla, et al. v. NYS Health Maintenance Organization Conference, Inc., et al.; Beyer Farms, Inc. v. Elmhurst Dairy, Inc., Vaad L'Hafotzas Sichos, Inc. v. Kehot Publication Society, a division of Merkos L'Inyonei Chinuch, Inc., and most notably (to date) Wal-Mart Stores, Inc. et al. v. Visa USA, Inc. and MasterCard International Incorporated (a/k/a In Re VisaCheck/MasterMoney Antitrust Litigation).
In Wal-Mart et al. v. Visa and MasterCard (a/k/a In Re VisaCheck/MasterMoney Antitrust Litigation), Mr. Shapiro coordinated the pre-trial discovery, countless motions (including the briefing of the successful class certification motions) and massive class notice (to over 5 million merchants) on behalf of the lead plaintiffs in one of the largest civil actions in history, involving production of more than 5 million documents and approximately 400 depositions (over 500 days)  Mr. Shapiro was one of the 4 members of the trial team that also simultaneously mediated and negotiated the largest antitrust settlement in history on the actual morning of trial — with a common fund of over $3 billion and unprecedented injunctive relief (valued at up to $1 billion in 2003 alone and up to $100 billion through 2010). That settlement, approved by the federal court in December 2003, has been described as historic and landmark for its impact on antitrust and class action jurisprudence, the payments systems, banking and retailing industries, and was called a "Home Run for the Retailers" by the American Banker." In a press release, his law firm heralded Mr. Shapiro's major part in the firm's role as lead counsel for the retailers.  Mr. Shapiro played a major role in numerous other significant cases.
While managing his law firm that grew to a staff of 20 from 2011-2015, Mr. Shapiro handled the appeal of a case over the sale of the $600 million former site of the Domino Sugar factory in Williamsburg, New York by the Community Preservation Corporation, sued a former Israeli Knesset member over the use of the property next to the site of Rachel's Tomb in the holy city of Bethlehem, Israel, sued the major Chabad organizations on behalf of the hand-chosen editors and publishers of the Lubavitcher-Rebbe's discourses in two intellectual property cases that challenged the structure and leadership of the worldwide Chabad movement, represented a myriad of individuals and companies in religious corporation disputes and the confirmation/vacatur/modification of arbitration awards issued by Rabbinical courts, and litigated countless proceedings involved credit and debit card companies.  One prime example was the adversary proceeding called Tribul LLC v. Cynergy Data Holdings, LLC, in the In re CD Liquidation matter before Chief Bankruptcy Judge Kevin Gross in Delaware Bankruptcy Court.  After the Court denied the Trustee's motion for summary judgment and motions in limine, and while the Tribul Parties' motions in limine seeking preclusion and negative inferences were still pending, that case settled on the very eve of trial, February 1, 2012.  This concluded two years of legal jousting, in which the defendant filed for bankruptcy protection soon after Mr. Shapiro and his colleagues had procured a TRO in New York state court compelling the specific performance of a marketing contract by the defendant (subsequently the Debtor in bankruptcy).   In a press release following the settlement, the Chairman of the Tribul Parties said "We are thrilled with the outcome of this long battle, which wouldn't have been possible without the excellent, dedicated work of Mitch Shapiro and his legal team.  Mitch's leadership, passion and personal dedication to our case was awe-inspiring and kept us all focused and going strong until the successful finish."   Giving credence to the old adage, "no rest for the weary," in the subsequent month alone, Mr. Shapiro successfully vacated a restraining order that had been entered against one of his clients and procured three different temporary orders for three different clients.  During one six month period, Mr. Shapiro went to trial on five different cases (one in federal court, three in NY state courts and one in California state court) and handled multiple trial-like evidentiary hearings for four different clients.  
MCShapiro Law Group's primary goal is to provide  clients with services that address their immediate legal needs while taking into account their long-term goals and objectives.  Mr. Shapiro and his team never forget that every client is unique; effective legal solutions are never one size fits all.   MCShapiro Law Group strives to deliver the same quality of service and representation as the largest law firms at which Mr. Shapiro received his training and against whom he and his team have continued to successfully litigate and negotiate, on behalf of and against individuals, small companies and Fortune 500 companies alike — BigLaw representation without the bureaucracy and never-ending billable hours.
(Attorney Advertisement: Prior results do not guarantee a similar outcome)